Race Salazar Memorial Scholarship
Race Salazar grew up playing sports in Folsom. He played Soccer, Basketball and Baseball until he graduated from Folsom High School in 2009. Shortly after he graduated while attending the University of Las Vegas, Nevada, Race suffered a life-ending heart arrhythmia in his sleep. This tragedy was the result of a condition called LQTS or Long QT Syndrome. LQTS is one of the 4 main types of SADS (Sudden Arrhythmia Death Syndromes) and it is a "silent killer" amongst our children and young adults.
Race's family has not only made it a mission to learn all that there was to know about SADS, LQTS and the other genetic heart conditions that can cause sudden death in young, apparently healthy people, they continue to inspire others through Race's story and make a difference by giving back to the organizations touched by Race's life.
The Race Salazar Memorial Fund was established in 2011 to award scholarships to deserving students at Folsom and Vista Del Lago High Schools. In addition each year a donation is made to the FAA to help with the Youth Assistance Scholarship Program and to improve existing sports programs and recreational facilities for the residents of Folsom. Our goal is to give back to our local community of Folsom by encouraging, educating and saving lives.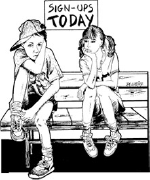 In the late 1980's, youth basketball coach, Troy Estacio recognized that several kids would regularly hang out at the gym but would not be playing. Troy's heart nearly broke when he found that these kids were not playing simply because they could not afford the entry fees. From this tragedy, the "Never in Our Town" Youth Scholarship Program was developed.
Today, the principle in which the interest is drawn upon to fund this program has climbed to $100,000. We hope you will consider touching a life in helping us ensure our motto stays true, "Never in our town will one of our youth not participate in recreational services due to financial constraints."
Please contact the high school counseling office for current deadline dates.
2018 FAA Race M Salazar Memorial Scholarship Award App
Click here for past Recipients
Click on the link to ask yourself "Is My child at Risk?"
SADS Coach & Player Risk-Assessment form