Folsom Athletic Association – Who We Are
The FAA is a non-profit service organization working to assist in the administration of community youth sports, creating recreation and athletic opportunities through teamwork, fundraising, programs, events, and scholarships. It's mission is to add economic value and community benefit by developing a first rate parks and recreation system and athletic opportunities.
It takes the partnership between all entities to support the interest of recreation opportunities within the Folsom community.
Folsom Athletic Association
Folsom City Council
Parks and Recreation Commission
Folsom Cordova Unified School District
Community Youth Sports Leagues
Local and Regional Businesses
Community Members
Volunteers
Building Communities through People, Parks, and Recreation
Building communities in Folsom spans over 100 years. Educators, principals, superintendents, city council members, commissioners, coaches, athletic directors, the chamber, local businesses, and residents have contributed their experience in the awareness of issues and the institutional memory to help preserve what has been accomplished.
Critical to the Organization – it's not a strong economy that make healthy people. It's healthy people who make a strong economy.
Team work. The ability to pull together partners to create opportunities to enhance the communities recreation and athletic opportunities.
Collective voice and prioritization of resources.
Advocate for best practice vs. self-interest and win at all cost mentality. Double goal coaching, coach to win, coach to teach life lesson through sports.
Ensure that all youth are able to participate in recreation and athletic activities no matter what their financial background, and that no youth is eliminated from participation do to parental or adult behavior.
Participant with all stakeholder to help advocate for fairness and equity, transparency and sharing of information that effects the stakeholders.
Develop leaders that strive to help improve the organization.
Continue to be instrumental in brokering the exchange of land and facilities for the development of new recreation facilities in the city.
Develop programs to assist all partners and individuals reach their full potential regardless of their organizational size, social or economic status, or age.
Most important, develop long term and short term strategic plans that align with the annual operating budget and capital budgets of the local stakeholders. And, teach the benefits of parks and recreation and the impacts our stakeholders have on making a healthy community.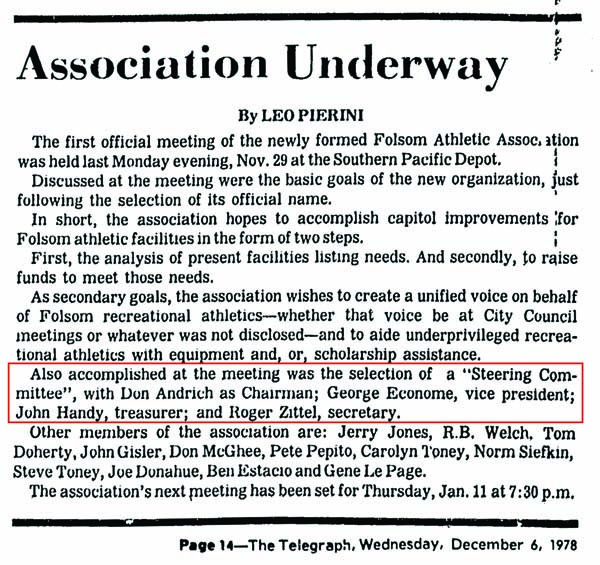 It began in 1979: Richard Cantor, President of the Folsom Chamber of Commerce, created a sports committee chaired by Phil Moeszinger. They provided the encouragement and resources to support the FAA.
Don Andrich was the first FAA President. George and Nick Econome, Bill Bonham, John Handy, and other like-minded members, were determined to establish the fundamentals in Folsom's growth and the city's increasing focus on health and wellness.
The FAA turned its dream into a reality by creating the Recreation Department for the City which evolved into the Parks and Recreation Department. The FAA conceptualized, fund-raised for, and constructed the thirty-acre Lembi Park; nicknamed "Home of the FAA." It inspired the community and initiated Folsom's health movement.
For forty years, the FAA is home to over 180 board members who support more than 10,000 young athletes throughout Folsom.