"Never in Our Town" – Youth Assistance Program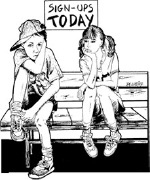 Never in our town will any youth not participate in sports due to financial constraints.
In the late 1980s, local basketball coach Troy Estacio recognized that several kids would regularly hang out at the gym but, would not be playing. Troy's heart nearly broke when he found that these kids were not playing simply because they could not afford the entry fees to do so. From this, the "Never in Our Town" Youth Assistance Program was developed and to date, has served well over 2,500 youths for a combined value of more than $195,000.
The Folsom Athletic Association (FAA) Youth Assistance Program strives to provide financial assistance for all Folsom youth residents who wish to participate in youth sports. The FAA will fund money to help offset the cost of league registration and/or sports equipment for each eligible youth. The fund is not limited to one sport, which allows kids to play multiple sports in a single year.
Today, the principle on which the interest is drawn to fund this program has climbed to $195,000. We hope you will consider touching a life by helping us ensure our motto stays true, "Never in our town will any youth not participate in sports due to financial constraints."