Teen Council
The Folsom Teen Council was established to ensure that the youth in our community had a voice, and a means to be engaged with their community.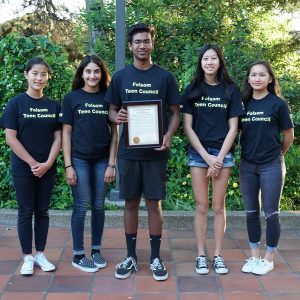 The
Folsom Teen Council
is made up of high school students living in Folsom. These students volunteer and provide leadership services at a variety of
City of Folsom
special events and assist students in the STARS program at Theodore Judah.
The Teen Council has been instrumental in facility designs for the development of the Cummings Family Skate and Bike Park and the Steve Miklos Aquatic Center. Each year, the Teen Council selects a service project to work on. The Police Department's annual holiday gift basket program and supporting the annual middle school Spring Fling at the Folsom Sports Complex have been BIG HITS in the past.
The Folsom Teen Council is a dedicated and enthusiastic group of teens who just want to make the world a better place!